Don't sleep on USP <800> like our sweet Lily here.
The "hurry up and wait" period is ending, and come this time next year, USP <797> and USP <800> will be enforceable by the Joint Commission, State Boards of Pharmacy and other accreditation entities.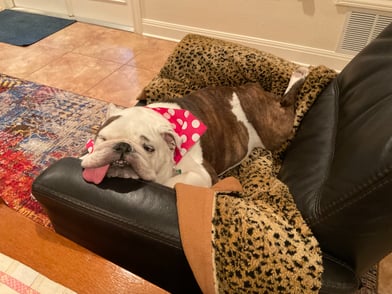 While at recent industry events, we found that 70% of respondents to our survey planned to take more than one year to fully prepare for a USP <800> inspection. That puts most of these organizations past the Nov. 1, 2023 deadline.
Where is your organization in the creation and execution of its hazardous drugs safe handling and disposal program? Will you be ready for an inspection in less than a year?
We talk to pharmacists, nurses and clinicians routinely, and compliance efforts are across the board. Of course, the pandemic shifted priorities for all healthcare organizations and thus began the great pause on USP <800> compliance which was originally planned for December 2019.
That hiatus from inspections was greatly appreciated and necessary. But for some organizations, it caused them to get off track with their hazardous drugs safe handling and disposal programs. And for those that continued making progress, the time spent waiting and wondering when inspections would begin resulted in USP <800> fatigue.
We've already compiled resources for you in our Safety First blog on identifying hazardous drugs, Assessments of Risk, LASA, high-alert drugs, required documentation and more. Sign up in the space above to receive notifications when a new blog is posted for resources to help you on the road to USP <797> and USP <800> compliance.
We'll share more tips from the road throughout 2023 as we speak to clinicians, pharmacists, nurses, and even the inspectors themselves. It's not just about compliance; it's primarily about ensuring your valued healthcare workers are safe from harm. This is our priority, and we'll help you get there too.
If you're interested in learning more about our Rhazdrugs product, check out this quick (we promise!) video.