Personal Protective Equipment or PPE has been part of my vocabulary for nearly 30 years. But if I talked to someone outside of the healthcare industry about it prior to March 2020, they would have looked at me like I was speaking Greek. Today, PPE is one of the most ubiquitous three letter acronyms in the English language.
The roots of PPE started with respiratory protection thousands of years ago, but not in the field of medicine as you might expect. Pliny the Elder, a Roman philosopher and naturalist, used animal bladder skins to filter dust and toxic materials in the middle of the first century AD. Leonardo da Vinci would put wet cloths over his nose and mouth to protect himself from inhaling harmful dust while he worked.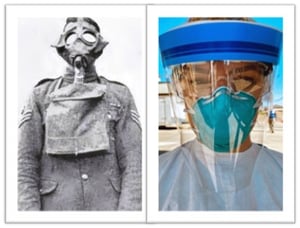 More strides were made in respiratory protection in the 19th and 20th centuries with the growth of the mining industry. And then, the chemical weapons of World War I and the Spanish Flu epidemic took this work to the next level. It seemed with each major world event came new agencies to oversee the protection of workers and the evolution of respiratory protection and ultimately PPE – a TB outbreak in the United States in 1991, the hazardous recovery efforts following the events of 9/11 in New York and DC, and a global epidemic of Ebola in 2014. The evolution of PPE is clearly an example of necessity being the mother of invention.
Today, the guidelines around PPE are maintained and updated by a number of government agencies including the Centers for Disease Control (CDC), the Occupational Safety and Health Administration (OSHA), and many more. There is a lot of information, a lot of people involved, and we've added COVID-19 into the mix. It can be overwhelming for our frontline healthcare workers.
That's where Rhazdrugs comes in.
This first-of-its-kind software solution provides a comprehensive list of hazardous drugs and a database that communicates what PPE to use and when, as well as:
Disposal

AoR

Safety data sheets

And much more
Rhazdrugs interfaces seamlessly with EHR including Epic, Cerner, Meditech, Allscripts and more. It is a valuable, virtually turnkey solution to support USP <800> compliance. More importantly, it provides peace of mind to healthcare workers so they can remain focused on their patients.
We have come a long way with PPE, especially in the last century. And it continues to evolve daily. Let us help you. Get started by setting up a time to connect with me.