Online marketing 101 – if it takes someone more than three clicks to get somewhere, you're going to lose a sale. After owning a SaaS-based company for more than 15 years, I wholeheartedly concur. But the stakes are much higher when those extra clicks compromise the safety of patients and their caregivers.
I was recently talking with the Chief Information Officer of a large health system about the Rpharmy suite of products and specifically Rhazdrugs. He asked me why would anyone need our software? I knew I could give him all of the relevant talking points and client testimonials. Instead, I told him to go and look up the term "anti-coagulant" on his SharePoint-based system.
"How many results did you get," I asked.
"143," he answered.
"So, if you're a busy physician, nurse, pharmacist, or respiratory therapist – which one of those links do you start with?"
Silence.
Safety information has to be easy to access and easy to navigate. This is paramount to patient and caregiver safety.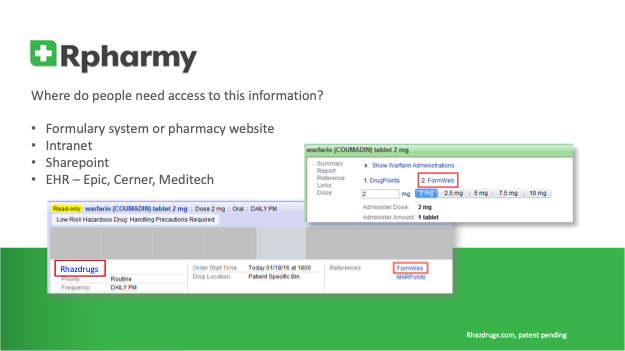 Rhazdrugs provides a seamless EHR, intranet or SharePoint interface. Whether on a tablet, a smart phone or even a hospital internet, information is accessible and organized so that no more than one or two clicks is required.
If you're interested in cutting down on your clicks while increasing safety, we'd love to help. Schedule time with us now.