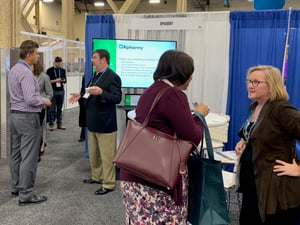 I want to start by thanking those of you who came by to see us at our booth at ASHP Midyear last week in Las Vegas. We had the opportunity to see many of our existing customers and meet some new people as well. What a great place to engage with like-minded folks and share thoughts and ideas about some of the challenges we are facing in our industry.
We are living in a digital world. Most of our interactions happen by typing on a keyboard or clicking a mouse. The very nature of Rpharmy's suite of products is digital. But seeing our customers in Vegas and interacting with people reminded me of the importance of true customer service, the kind that comes with real human interaction.
As we grow, we know we can never lose the connection with our customers. That is why we are so pleased to announce that we have expanded our Customer Service team and their capabilities. Joel, Randy and Marty are now available to answer questions and concerns. They know our products, understand our culture and approach, and are a very natural extension of the Rpharmy team. There are three convenient ways for you to get in touch with customer service:
· By logging on to https://support.formweb.com
· By calling 1-800-467-1907
· And as always, you should feel free to reach out to your direct Rpharmy contacts.
We take your questions and your feedback very seriously. If we cannot answer your question right away, we commit to getting back to you within 24 hours. Your feedback is what makes us and our products better. It is also what helps us to identify new needs in the marketplace so we can create even more products to better help you to help your patients. And at the end of the day, that is what it's all about.
From all of us here at Rpharmy, we wanted to take a moment to wish you and yours a very Happy Holidays. We hope this time is filled with friends, family, good food, good health and much love and laughter. We are looking forward to connecting with you in the New Year.