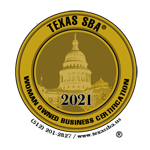 I am extremely proud to proclaim that Rpharmy is a Certified Woman-Owned Business! This recognition is a reflection of my passion for entrepreneurship and gives a well-deserved stamp of approval to Rpharmy and all the work we put into improving patient and healthcare safety.
I'm the CEO but I'm flanked by a team of amazing and devoted women who have helped me to bring my vision to life. These women have been with us for a decade or more giving all that they have to our customers. I couldn't ask for a greater support system and am reminded how much
stronger we are together.

My husband and Rpharmy co-founder, John, is the most pro-women partner I could have ever hoped for. The trauma of losing his mother to a med error was the inspiration for Rpharmy. Together we pledged to do what we could to prevent other families from experiencing the same preventable loss. Without his encouragement and care, Rpharmy wouldn't exist.
The recognition of women business owners by the Texas Small Business Administration (SBA) helps women distinguish their businesses from others. It also opens up more opportunities for these innovative and successful women.
We look forward to all that this certification will offer the Rpharmy team.