I don't want to take too much of your time this week because it is a holiday week after all. But I was compelled to put a short message together this morning when I sat down at my desk and looked over the top of my computer at a bulletin board on the wall.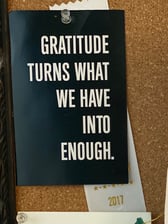 There amongst a couple of old handwritten notes from my kids, some photos, a jury summons
and a calendar, was a card that a good friend sent to me years ago. It says in simple type, "Gratitude turns what we have into enough." Of all the things to notice in the clutter of that much-loved bulletin board, I thought it was interesting that this one would stand out today of all days.
I am grateful – today and every day. I am grateful for family, friends, and our team at Rpharmy who are like family to us. I am grateful to our customers and to the communities they serve. And I am most grateful for the people we will never meet who will celebrate Thanksgiving this year because their caregivers had the right information, at the right time, in the right place to make a potentially life-saving decision on their behalf. For me, this is all more than enough.
On behalf of my husband, John, our family and the team at Rpharmy, we want to say a most sincere thank you. We wish you and yours a very Happy Thanksgiving.