The world we find ourselves in today is beyond all comprehension and imagination. We are at a loss as to how we can do more to help our frontline healthcare workers through the COVID-19 crisis.

One thing we know for sure. This is not a time for sales and marketing. It is a time for all of us to lend a helping hand.

We have compiled a list of valuable COVID – 19 resources for you including important CDC updates, articles and videos, and we will happily add a link to your existing FormWeb homepage. We have several customers who have added a link on the FormWeb homepage to the hospital resource page for COVID -19. See below for examples. If your FormWeb site is integrated with your EHR, this is a valuable place for this frequently used information.

To get started:

• Send us a quick email (support@formweb.com) and let us know if you would like this added to your FormWeb homepage. If you want us to link to your intranet, send us the link.
• If you want to use the information we have compiled, tell us and it will be added.

Thanks to Legacy Health, Our Lady of the Lake, and Iredell Memorial for sharing your ideas.
There is no manual for this one. It is being written as we go. We need to continue to talk to each other and share best practices. The power of our collective knowledge is the best defense for our frontline healthcare workers and their patients.
Legacy Health's COVID-19 Information Link on their FormWeb site: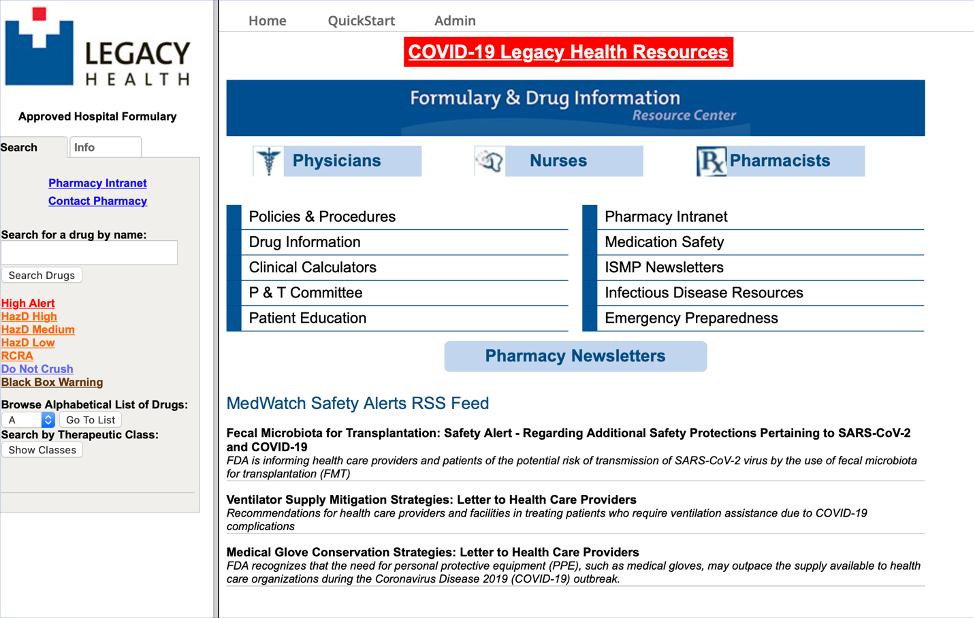 Linking to Additional Information:

Our Lady of the Lake's COVID-19 Link on their FormWeb site: